HIGHLIGHTS OF THE 1999 BRITISH MC SHOW IN PENSACOLA
Visit the Mobile Bay Vintage Motorcycle Club's Home Page
---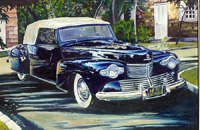 I painted this oil painting on masonite from a Photo just to practice painting reflections. Click on the picture for full screen view. I can be commissioned to do custom art work on any subject, structures, portraits, landscapes, etc but my real love is motorart. I am a professional mechanic who appreciates machinery and can draw/paint it accurately. I also consider restoring antique motorcycles an art form.
---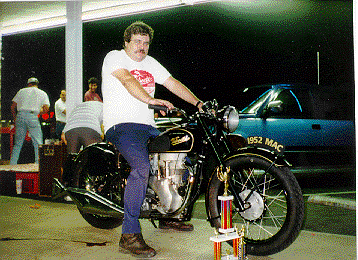 This is me on a 1952 Velocette 350cc Mac which I restored. It runs as well as it looks. In May 98 it won 1st place in Vintage European class at the Dauphin Island Spring Festival as well as best of Show. Paint, Pin stripes and Scripts are by Donnie Tanner (334) 649 5397 and machine work for the engine was done by Steve McClintock (334) 865 5262. A good source for Velocette parts is Ed Gilkison in Lakebay Washington (206) 884-2319. The exhaust system was obtained by a friend on a trip to London England. I began restoring it in 1987 and I just obtained the last missing part, a centerstand which mounts on the rear wheel in May 1998. Half the fun of restoring a bike is chasing down the parts. Someone somewhere will have what I am looking for. Click here to see the before picture. I sold the Velocette to Nigel Smith in 2000.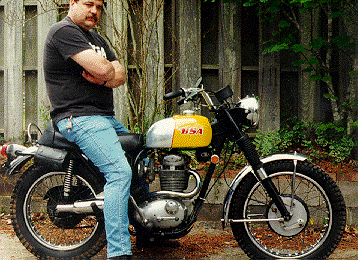 Here is a 441 BSA single (1970) which I also restored. The 441 was sold last year. I restored a BSA bantam D7 which turned out pretty good. Click here to go to Jim Downey's story on restoring the Bantams. Other bikes I own include: 1937 Harley UL , 1969 Honda 305 Dream, early 50s Triumph TRW (500cc flat head twin), 1971 toaster tank BMW R60/5. My parts-getter is a 1996 Goldwing Aspencade . Contact me by email at jimarrington123@yahoo.com
My father, James Arrington, was a long-time entheusiast here in Mobile. Click here to read an article about him in Cycle Magazine.
Click here to visit Jim Downey's Motorcycle Restoration page