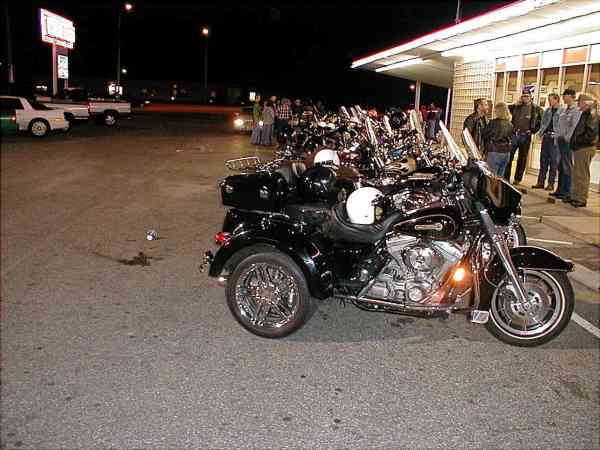 March's Third Thursday at the Whataburger
The weather was great for March's third Thursday and we had an excellent turnout. Raymond Cagle had the presence of mind to bring a camera and a big MBVMC thanks goes out to Raymond for these pictures. In addition to lots of modern bikes we had some good vintage iron. Jim Blackwell and Tom Scott braved the causeway with their twin Matchless 650 twins. Mike Thomason rode his unwashed but seemingly unbreakable Jawa 250 single. Mike Porter did an engine transplant on his Velorex 3 wheeler. He replaced the Jawa single with a Honda 250 twin. The thing really scoots now and even has electric start. Maybe next year it will get a reverse. Joe Green was showing off his new old Simplex Servicycle. Bo Arrington braved the streets on a Whizzer motorbike. This is the midget model as opposed to the regular model that was based on a full sized bicycle. Carlos Forte rode his Bridgestone 175 twin and Richard Crump rode Carlos' Suzuki 350 Rebel (sorry no picture). Carlos' son Alex Forte rode his BMW R75/6. Jim Downey arrived on his 1966 Triumph Bonneville. Marvin Uphaus rode his 83 BMW R100RT. Robert Hall showed off his beautifully prepared Kawasaki 500 triple. Raymond snapped this shot of a clean Yamaha 650 Turbo but I do not know whose it was. Lots of other bikes escaped the camera but, hopefully, we will shoot the rest next month.
Here is a follow-up note. On the way home from the Whataburger Carlos piloting the Bridgestone and tried to take on Richard and the Suzuki 350. Wound out tight at about 10,000 RPM (translates to about 60 mph on the little Bridgestone) in front of the State trooper office on Hwy 90 the right piston and its chrome bore became one. The back wheel locked up and after an exciting and very abrupt stop the Bridgestone ran no more. Carlos is looking for NOS Bridgestone pistons/cylinders. Anyone out there have any?