Pictures from the Gathering at Tom Glasener' in New Carlisle, Ohio and at the Mid-Ohio Swap meet (Summer 2001)
by Mike Thomasosn
While I wish more people could have been there, we had a great time and the Glaseners' hospitality was wonderful. I'll write up an account of the Gathering later, but for now here are some pictures with brief captions. Some of you got earlier reproductions, but I hope these are better quality!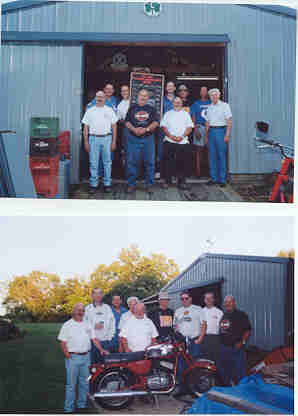 Two views of the group in front of Tom's barn where many Jawas and CZs live, and where we spent most of our time. In the top picture from L--R, John Bowman,Mike Thomason, Don Schumann, Dave Collins, Randy Schumann, Tom Glasener, Don Kueny,Jim Sherwood,Bob Shenk. Bottom picture, L-R, Bowmann, R. Schumann, Thomason, Shenk, Glasener, Kueny, Jeff Eason,Collins.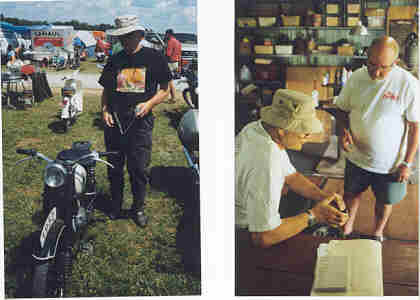 Kueny and Glasener at work' and Kueny looking at a 1952 CZ for sale (for too much money) at Mid-Ohio.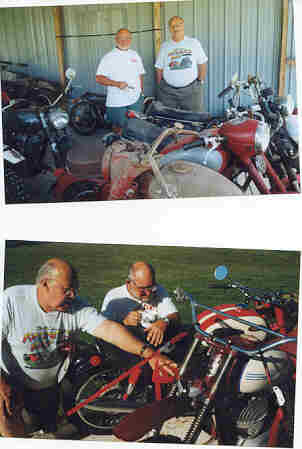 Collins and Glasener looking at some of Tom's bikes(top) and then at Dave's (bottom).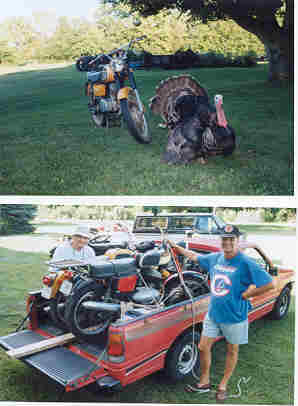 One of Tom's friendly pet turkeys and Jim Sherwood's CZ, and (bottom) Sherwood and Kueny unloading Jim's bikes. Paul McInerey and his restored Jawa 559 at Mid-Ohio, and the gang talks while the turkey struts( the turkeys stole the show!)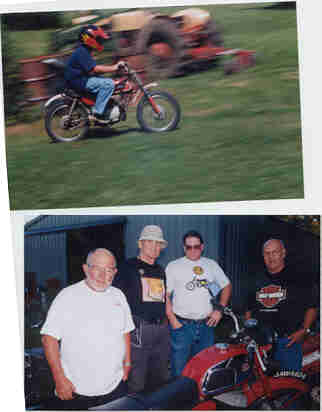 Tom's grandson going around the barn at speed on his off-road bike and Glasener, Kueny, Collins and Eason in front of Eason's Jawa 634.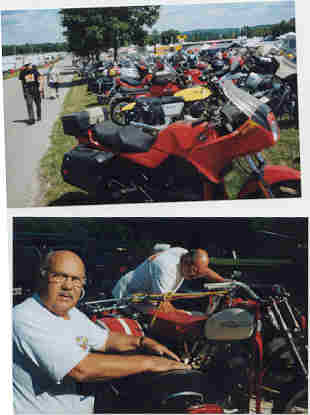 A few of the bikes in front of the entrance to the swap meet at Mid-Ohio and Collinsand Glasener admire the former's bikes.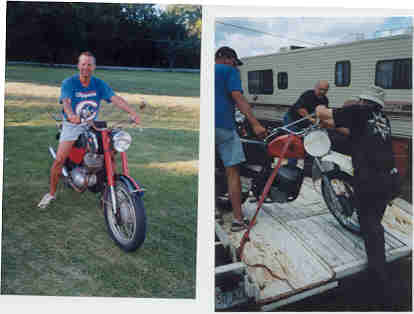 Jim Sherwood on his Jawa Californian which he rode over a hundred miles back from Mid-Ohio and moving Collins's motocrosser on his trailer while at Mid-Ohio to try to sell it. There are other pictures, but these are the best I have, and they give you a sense of what we did at the Gathering!
Mike Thomason
---