2011 Ft Conde Fall Show
Nov 20, 2011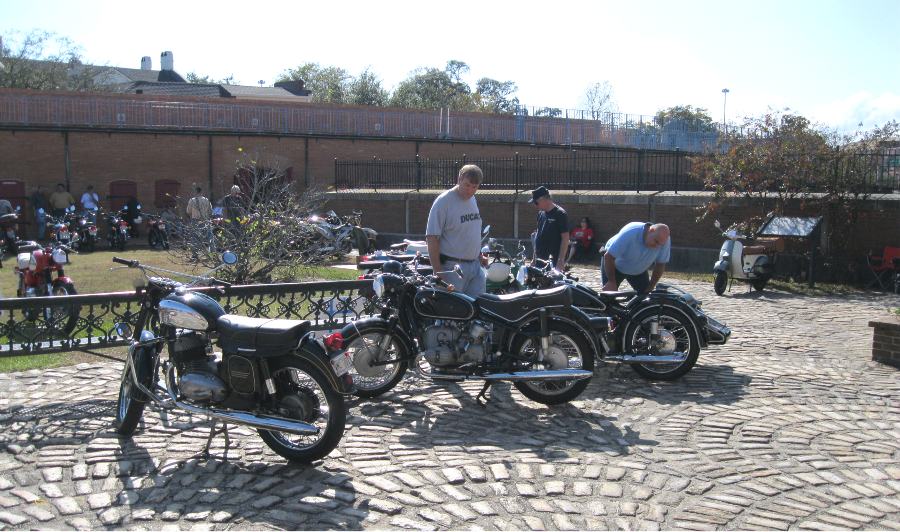 Jim Downey hands the cash to David Alsobrook the Museum curator.

The 2011 Ft Conde show enjoyed hot May weather despite being held in late November. All of the planets lined up for MBVMC for this year's fall vintage show. Although we had grey skies and a fog hanging over downtown mobile when we started setting up the site, by ten o'clock the sun was shining and the mercury started to rise. By noon it was almost 80 degrees and as pretty a day as we could ask for. The second break was that we were allowed to use the courtyard inside the fort for the show. The city has been renovating the fort and we were told that we would probably have to hold the show behind the fort on Theater Street. Miraculously the contractors had finished their work a few days early and the fort was ours. We had 65 bikes entered in the competition and hundreds of spectators showed up to view the bikes. Finally, unlike last year's food provider who was a complete no show, "The Shed's" trailer was set up and serving delicious barbeque before the first bike arrived. As in past shows the judging was tough. We had 9 judges. Some of the judges did have bikes in the show but in that case they did not vote on classes in which they had a bike entered. We had 12 classes and the result of the judging is listed below. We tried to get pictures of all of the bikes but we did miss some. If you have a picture of a bike we missed please send it it to jasdowney@gmail.com and we will add it. The winners with links to their pictures can be seen below. Many more pictures can be seen in the gallery.

We made a small profit from the entrance fees. We spent some of the money to renew our web address (mbvmc.net) for another year and also to cover a small short fall from last spring's Dauphin Island show. That left $122 left over which we donated to the Museum of Mobile who operates the fort. We are very lucky to have access to such a wonderful venue and this donation was our way to say than you. A big thanks also has to go to A and B Cycle in Mobile who were the sole sponsors of this year's show. They paid for the awards, the best of show trophy and all of the consumables.
Best of show: Andy Keiderling BMW R51/3 with side car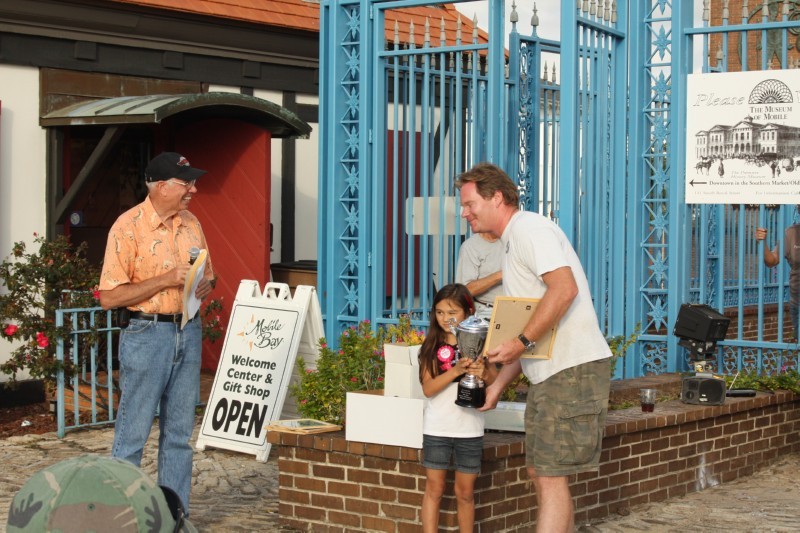 Andy (right) accepts the Best of Show Trophy