2010 Fort Conde Show (old bikes at the fort)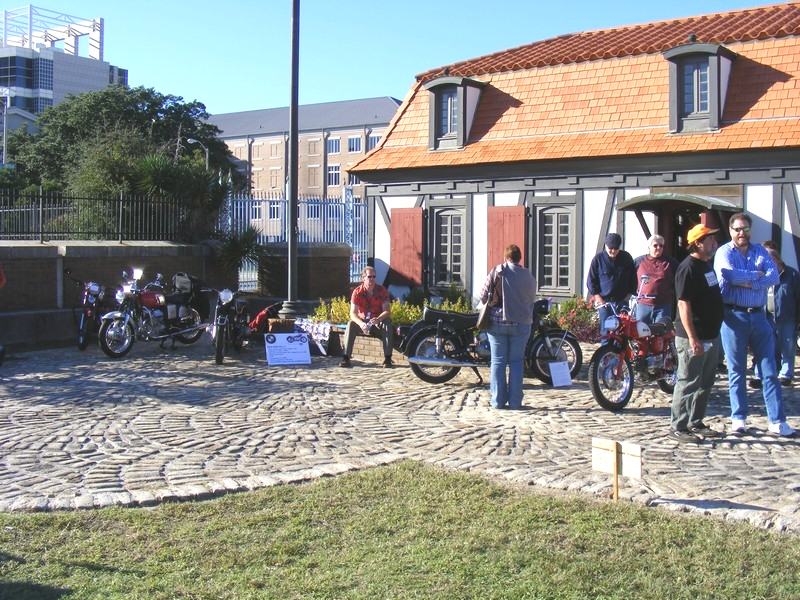 We had perfect sunny and warm weather for the show despite being so late in the season. The format for the show was vintage bikes only. This made us nervous but 57 bikes showed up for the 12 classes which is a great turnout for any show. The entrance fee was a mere $3 per bike. Our sponsor A&B Honda in Mobile covered the cost of the awards which this year were framed certificates. With some of the proceeds we renewed our web site for two more years. When all of the smoke cleared we still had $158 left over which we donated to the Museum of Mobile for its Fort Conde renovation fund. Due to the tight city budget much of the routine upkeep for the old fort has been put on hold. The restrooms were no longer working and the upper level is now closed to the public because the floors have deteriorated. Anybody who would like to make a donation to the fort would be giving to a worthy cause. The Fort is a real asset to downtown Mobile.
Below is a list of the winners in each class with a link to a picture of the bike. We tried to get a picture of most of the bikes. If you do not see your bike here and have a picture of it send it to Jim Downey jasdowney@gmail.com and he will load it on this site. All ofour pictures can be seen in the gallery .