Results from the Dauphin Island 2001 Show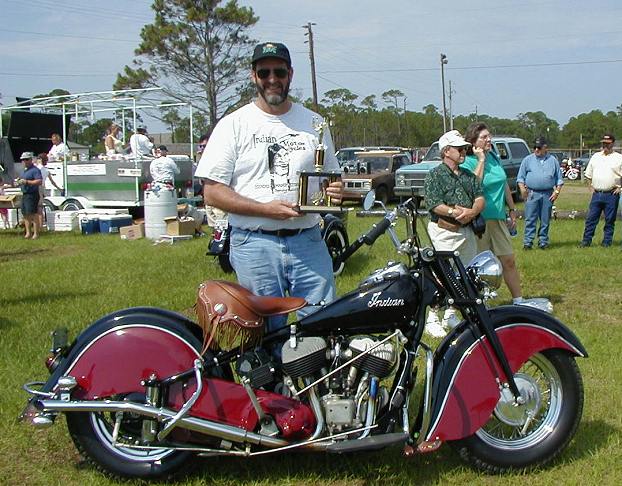 We had perfect weather for the show with a refreshing breeze off the gulf and not a cloud in the sky. We had 82 bikes entered in the show which is a new record for the show which is now in its sixth year. The picture above shows Kent stocker with his 1947 Indian Chief (which he rode the 60 miles to the show). The Chief took Best of Show. The winners in the various classes are listed below. We raised over $1000 for the DI school with the show. The crowds were estimated to be near 500 at one point and I think that this was the biggest and best outing yet. Jim Kersting, a corresponding member drove down from North Judson Indiana and brought some great pieces including his 1922 Neracar shown below.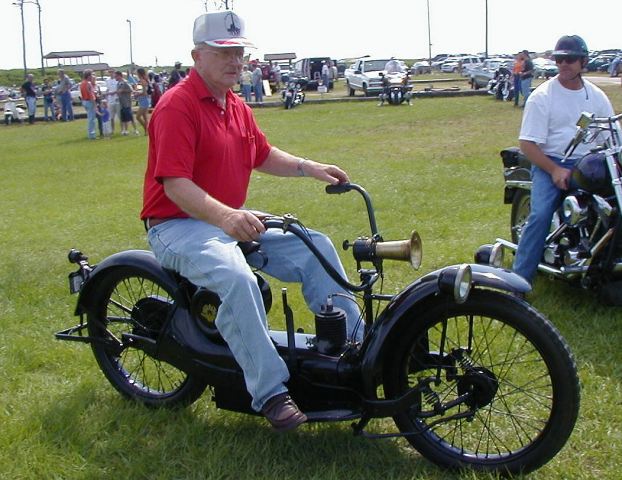 For more show pictures go to the picture gallery. The pictures have names which will give you an idea what they are. When I have more time I will try to arrange these a little better.
Here are the winners. I am sorry I could not get a picture of every winning bike but many are represented.
Class
Ist
2nd
3rd
Vintage American
Jim Kersting
1922 Neracar
Kent Stocker
1947 Indian Chief
Al Lewis
1957 Harley Hummer
Vintage Japanese
Carlos Forte
1967 Bridgestone
Tony Marshal
1964 Honda 90
David Paryzek
Suzuki T-125 Stinger
Vintage European
Jim Kersting
1934 BMW R2
David Paryzek
1964 Harley Sprint
Jim Kersting
1965 DKW 125
Vintage British
Nigel Smith
1952 Velocette 350
Jim Downey
1957 Triumph T-bird
Jake Taffaro
1969 Triumph TR6
Custom
Rawdy
1990 Sportster
Steve Hawkins
1999 Ultra Custom
Doc Hartwell
1989 HD Custom
Harley Cruiser
Brian Dean
HD-2000 Fat Boy
Sammy Brekenridge
HD 2000 Dyna Wide Gl
Anita Dean
HD 2001 Sportster
Non-Harley Cruiser
Tony Johnson
1500 Kaw Vulcan
Paul Dean
2001 Shadow Spirit
Richard Coley
1996 Honda Shadow
Sport Bike
Paul Dean
1999 Triumph 955I
Rick McClure
1986 Suzuki GS1150
Claude Newman
2001 Harley Sportster
Dresser
Jerry Clark
1996 Goldwing
Harrold Evens
1994 HD-FLHTPI
Glenn martin
1995 FLHTC
Competition
Mike Porter
1988 Yamaha YSR
Al Lewis
1978 Harley MX250
Jerry Dildy
1968 Suzuki Z80
Unrestored Vintage
Carlos Forte
1967 Moto Guzzi V7
Carlos Forte
1969 Sears 250
Mike Porter
1947 BMW R25
Motor Scooter
Carlos Forte
1963 Allstate Compact
Mike Porter
1961 HD Topper
Joe Green
1957 Cushman Eagle
Of course we want to give our thanks to A&B Cycles (Mobile), D&D cycles (Pensacola), Mobile Bay Harley Davidson (Mobile), and Mobil RV Sales and Service (Mobile) for their generous donations to the trophy fund. Michele Steiner procured the Dauphin Island site for us and was also responsible for organizing the tent and the fine food. Gene Weir kindly volenteered to man the registration booth. All MBVMC members chipped in with the crowd control and made things run smoothly.