The Fourth Annual Fort Condé Show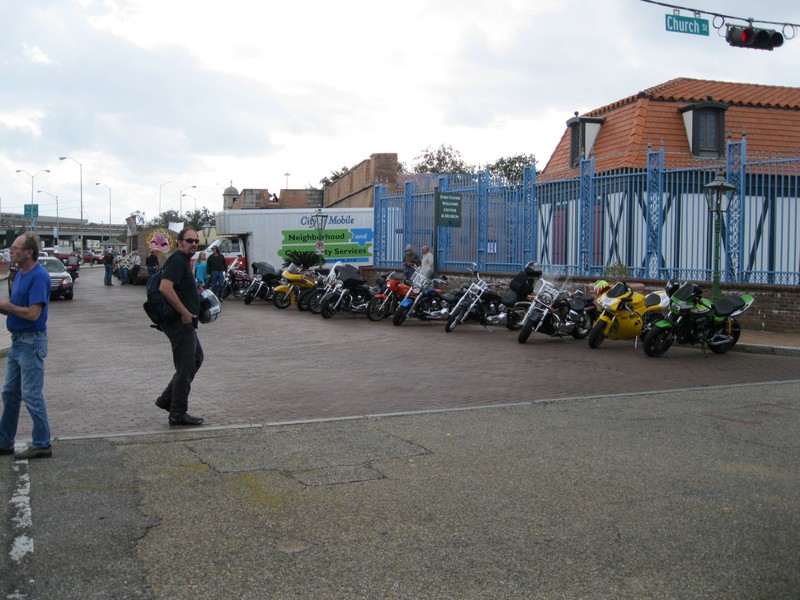 "Fort Condé Four" was a bit different from previous shows. The fort had fallen into disrepair in recent years. The roof leaked, the toilets no longer worked, the grass in quadrangle had been replaced with weeds, and several mishaps with seniors stumbling on the rough cobblestones were increasingly alarming the city's lawyers to the possibility that an expensive personal injury suit was just around the corner. Because the fort is one of the city's main tourist attractions, there was a high priority to effect repairs this year. Those were essentially finished about a month before the show. Part of the renovation included replacing the cobblestones with a flat bricks like the sidewalks outside the fort. The new bricks were set in sand (not mortar) and made an attractive pavement. However, the masons advised that nothing heavy be placed on the bricks until they have settled for a few months and that of course included our motorcycles.
The museum of Mobile personnel were anxious to accommodate us in some way so we spent a morning several weeks before the show date considering options. We settled on using the section of Church Street that runs between Water and Royal alongside the Museum. They cleared the street on Saturday night so we could set up Sunday morning. It worked out fine as we had plenty of room. Most of the bikes could be parked on hard pavement rather than soft grass which was a definite plus. And, of course, beautiful Fort Conde was right across the street and open for viewing. To sweeten the deal the Museum was open free to all show participants. The Shed set up their Bar B Q trailer in front of the fort and provide food and drinks for all. Finally, the weather gods again smiled on us with warm sunny skies which is not a given during November.
We had 67 bikes entered in 12 classes. Eight MBVMC club members volunteered to do the judging. Framed certificates were awarded to the first 3 places in each class and a best of show trophy was awarded to Kent Stocker for his beautiful WWII Harley WLA sidecar rig. The winners are listed below. You can see pictures of most of the bikes in the gallery. Unfortunately the memory card filled up on our photographer's camera so some of the pictures did not come out. If you happen to have pictures of an entry that is not represented in the gallery (like Beatrice Long's Simplex) please send it to Jim Downey jasdowney@gmail.com and he will add it.
Best of show: Kent Stocker with 1942 HD WLA military sidecar rig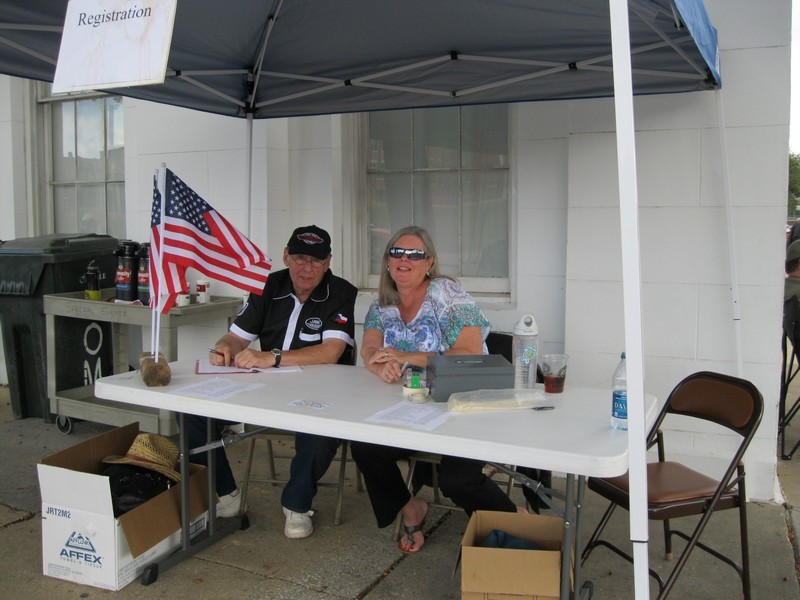 Mike Thomason and Beverly Moritz ran the registration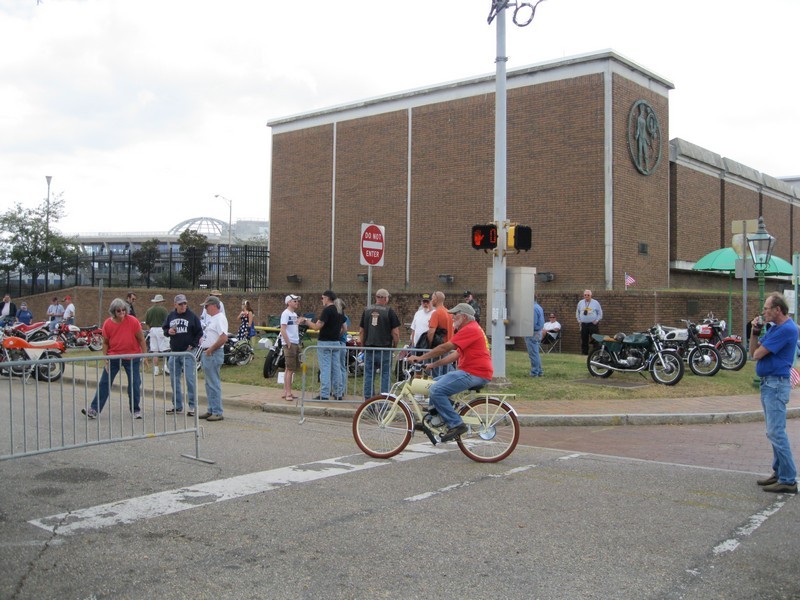 The British and Americans battle it out on Bunker Hill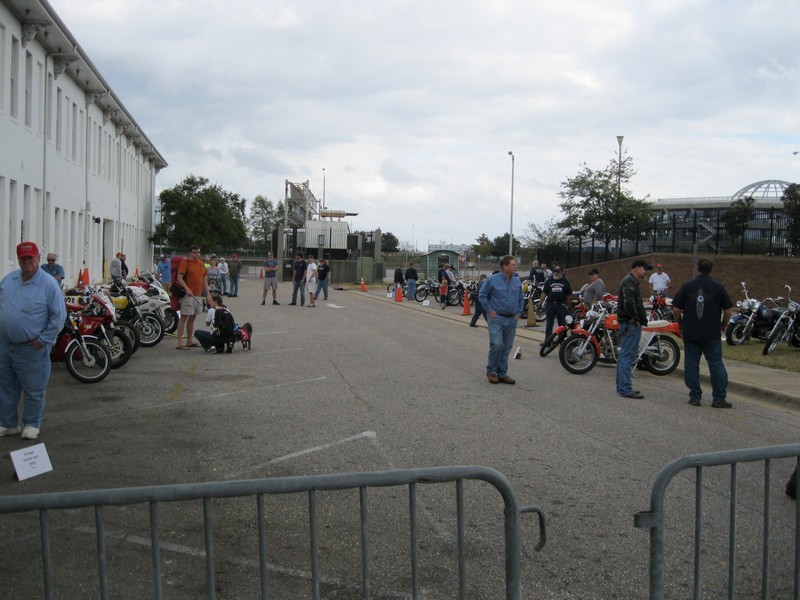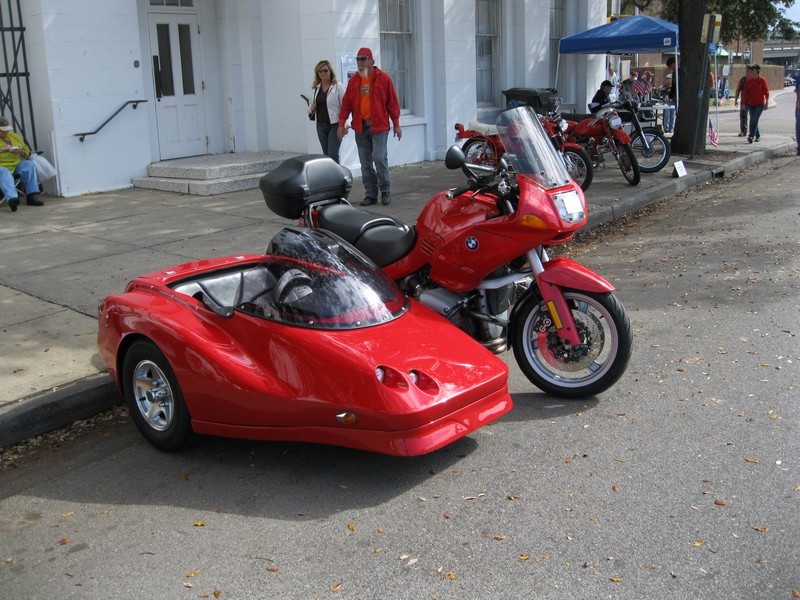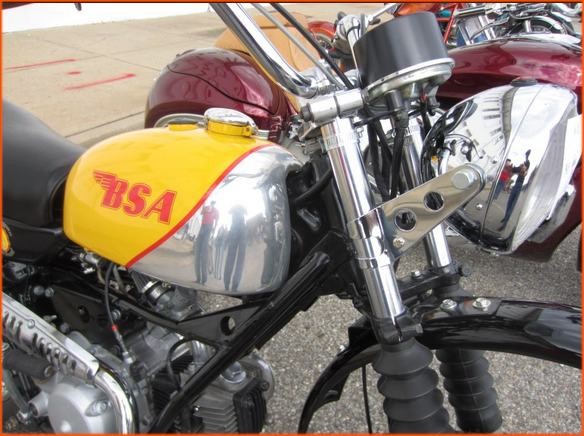 Sweet!